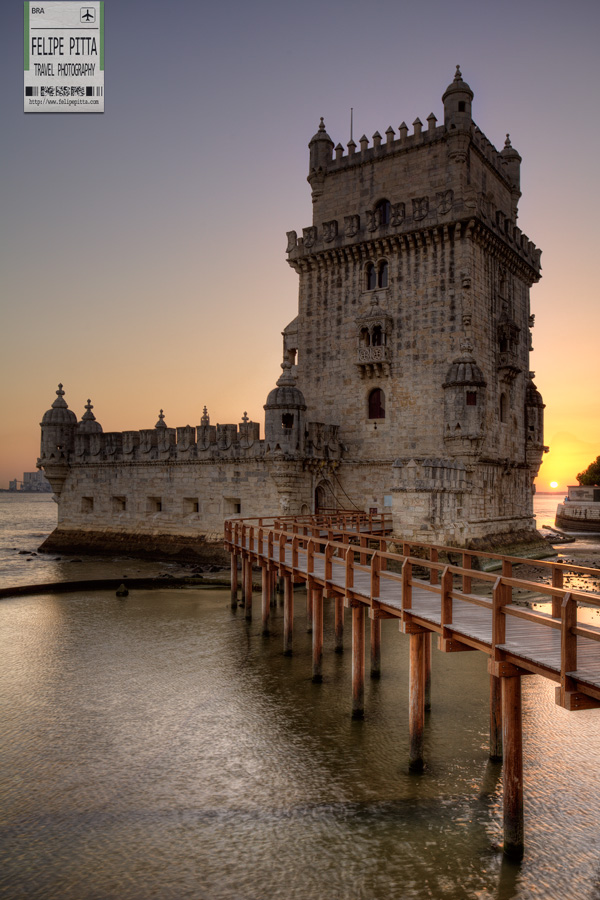 I was planning to photograph the Monument to the Discoveries using that beautiful sunset golden light earlier this October during my trip to Portugal, however, when I looked back, even more beautiful was the sunset itself behind the  Belém Tower (Portuguese: Torre de Belém). I immediately run back to setup up the equipment just in time to photograph this beautiful sunset. I was lucky! One more minute and the sun would be gone :)
The Belem Tower is a fortified tower located in the civil parish of Santa Maria de Belém in the municipality of Lisbon, Portugal.  It is a UNESCO World Heritage Site because of the significant role it played in the Portuguese maritime discoveries of the era of the Age of Discoveries. The tower was commissioned by King John II to be part of a defense system at the mouth of the Tagus river and a ceremonial gateway to Lisbon.
It was built in the early 16th century and is a prominent example of the Portuguese Manueline style. The structure was built from lioz limestone and is composed of a bastion and a 30m (100 foot)  tower. It has incorrectly been stated that the tower was built in the middle of the Tagus and now sits near the shore because the river was redirected after the 1755 Lisbon earthquake. In fact, the tower was built on a small island in the Tagus River near the Lisbon shore.