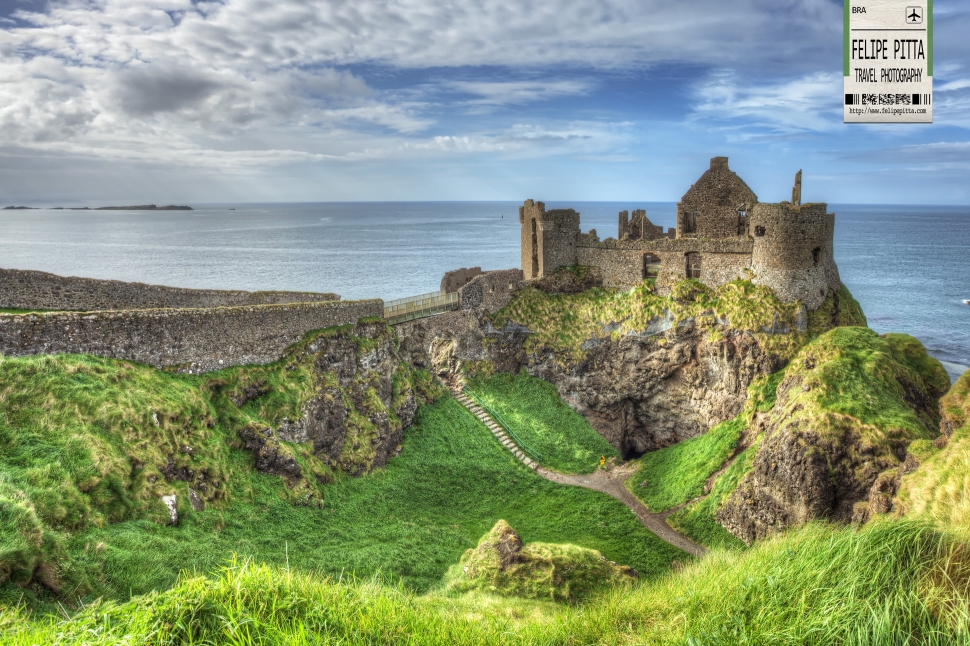 Dunluce Castle is located dramatically close to a headland that plunges straight into the sea, along the North Antrim coast in Northern Ireland, and was the headquarters of the MacDonnell Clan. There is archaeological evidence of a village that surrounded the castle which was destroyed by fire in 1641. The site was also witness to the sinking of a colony ship that broke up on the rocks off Islay in 1857 with the loss of 240 lives.
Constantly fought over, it eventually succumbed to the power of nature, when part of it fell into the sea one stormy night in 1639. It was abandoned shortly afterwards. While there is evidence that parts of the castle date back to the 14th century, the first record of it is from 1513 when it belonged to the MacQuillans. The 17th century mainland courtyard, containing domestic buildings, leads downhill to a narrow crossing to the rock, formerly protected by a drawbridge to the gatehouse. The buildings on the rock are 16th and 17th century.
Dunluce Castle is thought to be the inspiration for Cair Paravel in C.S. Lewis' Chronicles of Narnia. In 1973 the castle appeared on the inner gatefold of the multi-million selling Led Zeppelin album Houses of the Holy. It is also featured on the cover of the album Glasgow Friday by American musician Jandek. The castle appeared as Snakehead's hideout under the name 'Ravens Keep' in the 2003 movie, The Medallion, which starred Jackie Chan. The cassette and CD versions of Gary Moore's 1989 album "After the War" feature an instrumental track titled "Dunluce" in one and two parts respectively. The castle is mentioned and appears briefly in Michael Palin's 2004 episode of Great Railway Journeys, Derry to Kerry.