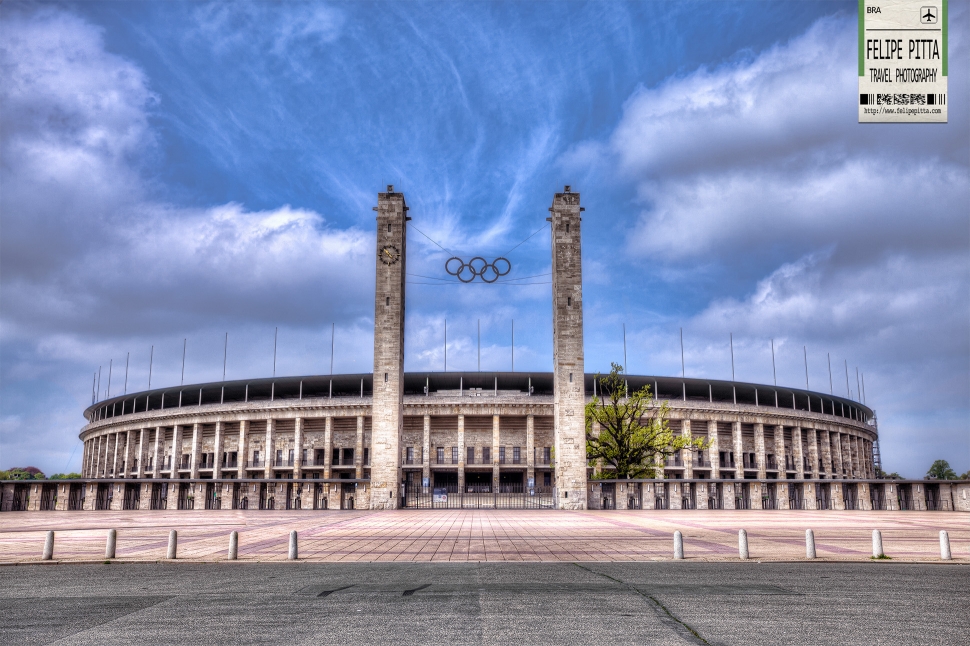 With the 2014 FIFA World Cup in Brazil being just around the corner and as a big football (or soccer if you are in America) fan, I could not be in Berlin and not visit the Olympic Stadium (German: Olympiastadion). Not only because it is an unique stadium but also because of its presence in history.
The Olympic Stadium was built for the 1936 Summer Olympic Games, after the International Olympic Committee (IOC) had chosen Berlin in 1931 to host the 1936 Games. Hitler took advantage of the opportunity provided by the Games to present a propagandistic image of National Socialist Germany to the world. For the duration of the Olympic Games, for instance, signs forbidding Jews to sit on park benches were removed so as not to detract from the Third Reich's portrayal of itself. The construction carried out for the Olympics was the Third Reich's first large architectural project.
At one side of the stadium, the main axis is expressed by two identical towers. They indicate the main entrance. The Olympic rings are suspended between the towers to symbolically complete the design of the portal. At the other side of the stadium, the continuity of the tiers along the elliptical perimeter is suddenly interrupted by the 'Marathon Gate'. It is defined by two robust blocs that served to welcome the Olympic flame. The axis subsequently culminates with the 'Führerturm' which is the highest tower in front of the Marathon Gate. It heightens 75 meters (246 feet).
On occasion of the World Cup 2006, the stadium was completely renovated starting in September 2000. Because the stadium is classified as a historical monument, the project of the renovated stadium respected the original structure of the Thirties. Just like the tiers, the roof also interrupts at the Marathon Gate. The stadium now provides covered seating for around 74,450 spectators and it hosted six matches, including the final, in the 2006 FIFA World Cup.
On May 2013, UEFA announced that the stadium will host the 2015 UEFA Champions League Final.