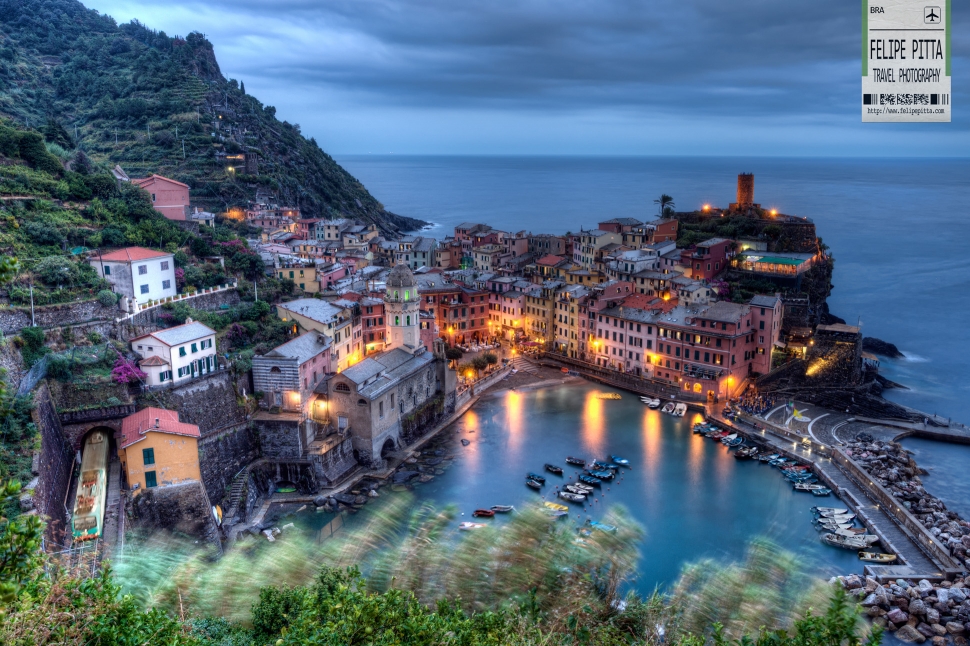 After visiting Manarola, I spent my second day in the beautiful Cinque Terre region in Liguria, Italy visiting Vernazza, the fourth town heading north.
Vernazza has no car traffic, and remains one of the truest "fishing villages", probably the most characteristic of the Cinque Terre and is classified as one of the most beautiful villages in Italy. It was founded about 1000 A.D. and was ruled by the Republic of Genoa starting in 1276. The tiny port is surrounded by subtle colourful pastels and the charming piazza is lined with good restaurants and bars which I made sure to try :) The village is surrounded by very steeply-terraced olive groves which are said to produce among the finest olive oil in the country.
One thing that I didn't know and I found out there is that in October 25, 2011, Vernazza was struck by torrential rains, massive flooding and mudslides that left the town buried in over 4 meters (over 13 feet) of mud and debris, causing over 100 million euro worth of damage. The town was evacuated and in a state of emergency for many months, but with hard work and help from people around the world Vernazza has returned and it is open to travellers again.
After spending some time exploring around I started to look for a good spot to photograph the village from above after the sunset. I ended up finding this very nice spot with a great view of the village, including the train tracks. But what was definitely not planned was the rain storm that caught me after I already had setup the tripod and camera. I didn't want to give up though and decided to use an umbrella to protect the camera and wait for the storm to pass, and how happy I am now that I didn't give up. Vernazza is definitely one of the most beautiful places in my portfolio.