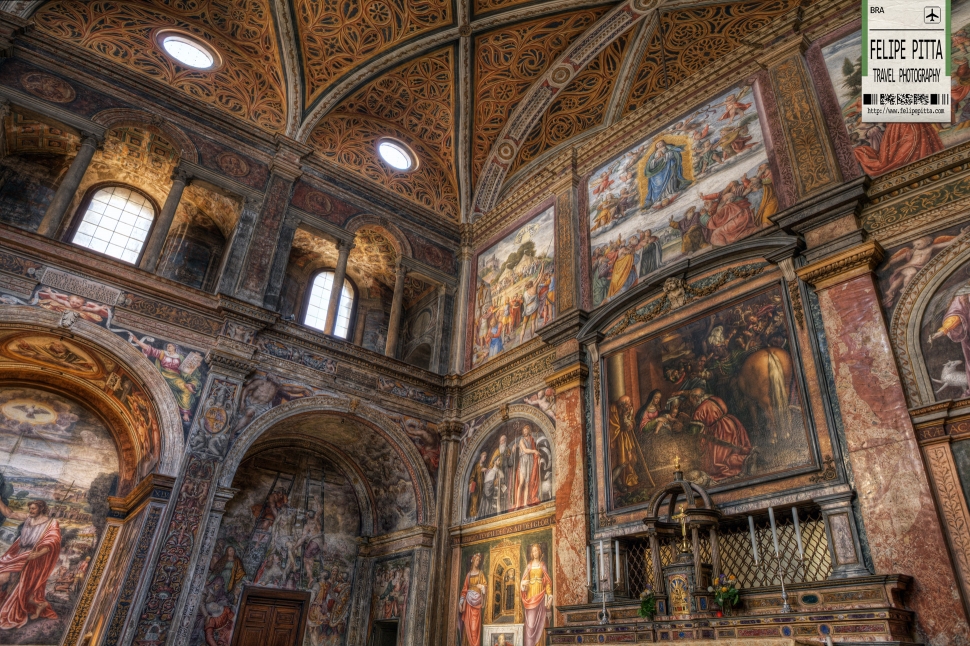 Another amazing architectural jewel I found in Milan, The Chiesa di San Maurizio al Monastero Maggiore was built in 1503 by Gian Giacomo Dolcebuono. It was finished fifteen years later by Cristoforo Solari, divided into two parts: one for the faithful and one for the nuns. Until 1794 the nuns were strongly forbidden to cross the dividing wall.
Basically there is a work of wonder around every corner of this awe inspiring church, not to mention its own inherent beauty. But  the most important artwork of the church is the cycle of frescoes from the 16th century covering the walls.
The dividing wall has frescoes depicting the Life of San Maurizio by Bernardino Luini, a student of Leonardo da Vinci, which flank an altarpiece with an Adoration of the Magi by Antonio Campi. 
The convent hall (or hall of the nuns) is also completely painted. The partition wall, a work by Bernardino Luini, presents images of Saint Catherine, Saint Agatha, the Marriage at Cana, the Carrying of the Cross of Christ on the Cross and Christ died. On the vault of the hall is depicted a starry sky, with God, the Evangelists, and angels.
Also in the convent hall there is an organ of 1554 by Giovan Giacomo Antegnati entirely by mechanical transmission, consisting of a keyboard of 50 notes and a pedal 20, constantly united to the keyboard. The organ's case was decorated by Francesco and Girolamo de' Medici da Seregno.
I sure had a great time in Milan and I'm happy to be heading to Italy again in September. This time I'll have a few more days and will definitely visit more cities. Looking forward to sharing more details and stories from Italy with you here very soon!